Your magician from Stuttgart
Welcome into the world of magic and therefore into the world of the magician, mentalist und hypnotist Marco Miele from Stuttgart! Let yourself be carried away and explore the innumerable facets with which Marco Miele will surprise you!
Words are not enough to describe how Marco's art enchants and surprises the public. Watch the faces of the fascinated spectators in the videos on this page, and you may be able to understand why the world of magic is Marco Miele's world.
He is the winner of the Merlin Award, the most prestigious international award among magicians. In the TV show "Italia's Got Talent" in 2020, he amazed, touched and thrilled the jury and the audience, who voted for him as the only magician in the final.
In 2021, he amazed the audience of "Das Supertalent" in Germany; with his unique magic acts, he even surprised the Ehrlich Brothers in the jury and earned a loud standing ovation from the audience.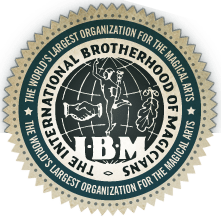 Certified Member of The International
Brotherhood of Magicians